APA-TEX
---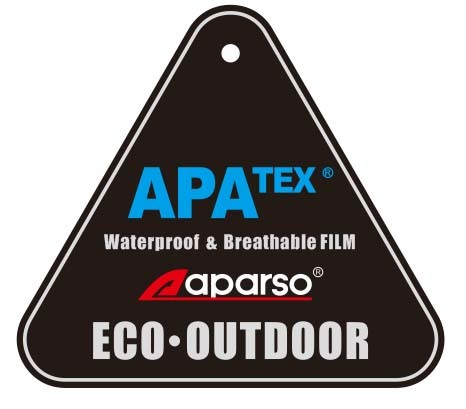 1. Waterproof
APATEX is an improved, strong and seamless polyester film. With it, water cannot penetrate through,but foot perspiration is able to get out.
2. Air permeability
Such kinds of substance, like dust,salt,fiber, surfactant, will contaminate micro- porous PTFE membrane, and will gradually destroy the permeability.
But APA-TEX is a seamless membrane. Moisture will get out the film through the molecular structure itself.Therefore, no clogging will occur.
APA-TEX can maintain longterm permeability.
3. Elasticity
APA-TEX can 360% stretch in any direction without breakage, while other PTFE membranes are easy to be break under very minor pull force.
Such kind of stretchability combined with good tensile strength enhance the durability of APA-TEX.
4. Environment friendly
APA-TEX is an improved environmental polyester film. No matter in production application, disposal of waste or incineration, it will not set off any chemical reaction.The material will biodegrade naturally after 3-5 years through the action of microorganisms under the soil in moist circumstance.

APATEX Membrane structural Diagram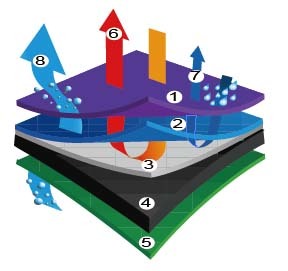 ① ABRASION RESISTANT OUTER SHELL
② INNER FABRIC
③ APA-TEX MEMBRANE
④ 3mm FOAM
⑤ SOFT INNER LINER
⑥ WINDPROOF
⑦ WATERPROOF
⑧ MOISTURE PERMEABILIT
APA-TEX Membrane Parameters Table
| | | | | |
| --- | --- | --- | --- | --- |
| Physical properties | Air permeability | Abrasion resistance | Water-resistance | Tensile strain |
| Testing method | ISO 9237-1995 | ISO 12947-2 | ISO 811-1981 | ASTM D882 |
| Unit | mm/s | Rubs | mm H2O | % |
| APA-01L | 1.9 | Over 3 0000 | 6105 | 450 |
| APA-02M | 2.1 | Over 3 0000 | 6350 | 500 |
| APA-03H | 3.1 | Over 3 0000 | 7965 | 500 |
APARSO INTERNATIONAL LIMITED
Mobile Site
Mobile Site